on Wednesday, October 2, 2019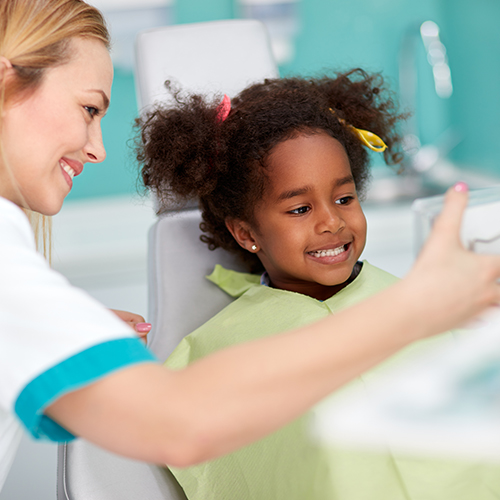 Gresham Family Dentistry is proud to offer Gresham families the best in family dentistry services! When you're looking for family dentistry services in Gresham, Gresham Family Dentistry is the place to be. We keep your whole family on track for good oral health, including your kids! As part of our family dentistry services, we offer tips to give parents the tools they need to help instill good oral hygiene habits in their kids.
How Often Should Children See The Dentist?
Gresham Family Dentistry recommends bringing your child in for their first dental appointment either by the time the first tooth appears or his first birthday — whichever comes first. After that, kids should have regular appointments for family dentistry services every six months. Why is it important to have appointments every six months?
Protect Teeth From Decay
Regular appointments for family dentistry services with Gresham Family Dentistry allows our dentist to detect early signs of dental disease and decay. Even if you take excellent care of your child's teeth, there is still the possibility that your child could have problems for which you cannot see symptoms. A dentist can catch these early and treat the issue before it becomes a larger problem. Although parents sometimes think that baby teeth do not require extensive care because they will eventually fall out, remember that your child's permanent teeth grow directly beneath those baby teeth. Baby teeth help to guide permanent teeth into place and play an important role in your child's long-term dental health.
Ensure That Teeth Develop Correctly
At Gresham Family Dentistry, we will also check your child's teeth to ensure that everything is developing correctly, and that missing or crooked teeth are watched. Another thing we can spot during regular appointments for family dentistry services is the signs of a fluoride deficiency. In this case, we can recommend appropriate adjustments in your child's fluoride intake or application of a topical fluoride solution. We will also explain and demonstrate proper brushing and flossing techniques to you and your child.
Build Up A Comfort Level
Bringing your child to the dentist twice a year from an early age expedites acclimation to the dental office environment. It also builds up your child's comfort and confidence level and reduces both your and your child's anxiety and fear about the dentist, leading to stress-free visits in the future.
Get All The Best Family Dentistry Services And Advice Through Gresham Family Dentistry
Be proactive about your oral health – schedule an appointment today for an oral checkup for your baby with Gresham Family Dentistry. At Gresham Family Dentistry, our priority is your comfort. We provide quality dental services for the entire family including sedation dentistry, children's dentistry, oral surgery, dental cleanings, and more!
Our hours of operation are Monday, Tuesday, Wednesday, and Friday 7:30 AM – 4:00 PM and Thursday 7:30 AM – 5:00 PM.