on Tuesday, January 21, 2020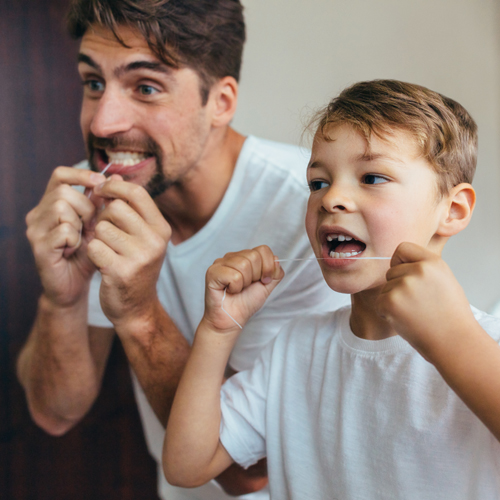 Gresham Family Dentistry Helps Gresham Families Stay Smiling And Healthy
When you're looking for the best in family dentistry services in Gresham, stop on in at Gresham Family Dentistry. We are proud to offer the best in family dentistry services to keep Gresham families smiling and healthy. No matter the type of family dentistry services you need – whether it's a routine checkup, cosmetic dentistry, or other types of dental need – Gresham Family Dentistry has you covered. Gresham Family Dentistry is here to provide the best family dentistry services and information to help Gresham patients understand their tooth care routine.
Gresham Family Dentistry wants to help parents teach their little ones proper dental care. One of the most important things you can teach your kid is how to floss.
When to Teach Your Kids to Floss
Children should begin flossing as soon as they have two teeth that touch one another. Gresham parents should floss their children's teeth until they are old enough to floss effectively on their own. Usually, kids are able to begin flossing on their own by the time they reach the ages of 6 or 7 years old.
The Importance of Flossing
Flossing is crucial for removing food particles and plaque that has accumulated between the teeth. Flossing both helps to polish the sides of teeth and helps prevent tartar. Tartar, when not cleaned away, can lead to tooth decay. Decay leads to a need for fillings, crowns, or other serious dental work. Flossing also helps to fend off bad breath, since it whisks away odor-causing bacteria and food grime. Gresham parents should teach their children that although brushing cleans the front and backs of the teeth, flossing cleans the sides of the teeth. Without flossing, the job is only half done.
Teaching Proper Flossing Technique
Gresham Family Dentistry recommends that Gresham parents take the time to teach kids how to floss. Children can sometimes have trouble remembering all the steps to flossing. To aid their children, Gresham parents should work with their kids every night. Make sure that your children really understand how to floss. The technique that you teach to your children will depend on the type of dental floss that your child prefers to use – traditional or dental floss picks.
Traditional Dental Floss
For traditional dental floss use, your child needs to grip a length of dental floss between their thumb and index finger on each hand. Gresham patents can show their children how to wrap the dental floss around their index finger. This helps to reduce slipping. From there, it is important to relax the floss into a "C" shape and gently glide it between their teeth. Let your children know that they should use a new section of floss when moving to a new area. This helps prevent spreading germs. Make sure to clean both sides of each gap, and continue down slightly under the gumline.
Dental Floss Picks
Some children find handling traditional dental floss difficult at first. It may be easier for your children if you supply them with some children's dental floss picks. Dental floss picks have small lengths of pre-strung floss spread between tines on a convenient plastic handle. Gresham parents can show your child how to push the floss between the teeth. Much like with traditional floss, the same piece of floss shouldn't be used for all of your teeth, so be sure to tell your kids how to tell when they need a new flosser.
Get All The Best Family Dentistry Services And Advice Through Gresham Family Dentistry
Be proactive about your oral health – schedule an appointment today for an oral checkup for your baby with Gresham Family Dentistry. At Gresham Family Dentistry, our priority is your comfort. We provide quality dental services for the entire family including sedation dentistry, children's dentistry, oral surgery, dental cleanings, and more!
Our hours of operation are Monday, Tuesday, Wednesday, and Friday 7:30 AM – 4:00 PM and Thursday 7:30 AM – 5:00 PM.
To schedule a visit, contact us or call 503-661-2600.