on Wednesday, March 20, 2019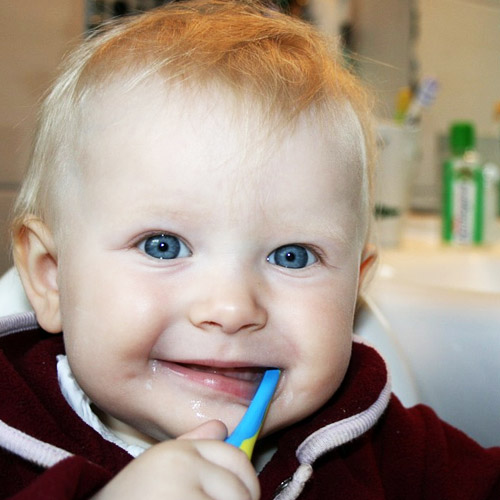 Many parents have trouble convincing their children to brush their teeth regularly. Children often may buck against routines that aren't fun for them. So while you've been in the habit of brushing your teeth twice a day for years, this is a new experience for your child.
In addition to simply not being used to it, there are many reasons why your child may be reluctant to brush their teeth. It may feel foreign and uncomfortable for them. They may feel extra sensitive due to growing and losing teeth, as is common for children. Listen carefully to your child and make sure that brushing is not causing him undue pain. Be mindful of his sensitivity and show him how to brush without the agitation.
Here are a few tips for encouraging your kids to brush:
Get a new toothbrush.
This is a relatively small thing, but the novelty of a new toothbrush is sometimes enough to encourage a child to brush. Look for something fun. Perhaps there's a toothbrush with your child's favorite cartoon character. Perhaps they'd simply like one in their favorite color. Try letting your kid pick out their own toothbrush. Make it a fun, monthly outing to get them a new one when the old one has been exhausted.
Let your child pick the toothpaste.
If your child struggles with the taste of his toothpaste, allow them to try something new. Keeping in mind that toothpastes without added sugar are best for them, try to steer them towards more healthy options as well.
Brush together.
It may be harder for your child to feel encouraged to brush on their own. Allow them to see you or older siblings brush – and try brushing together. For younger children, like toddlers, make a game with their favorite teddy bear or doll. Once they know that everyone brushes their teeth, they may feel more inclined to brush on their own.
Create a reward system.
The threat of cavities doesn't mean much to a child and isn't likely to motivate them. Consider keeping a sticker calendar – giving your child a gold star, or other favorite sticker, whenever they brush their teeth.
Brush along with their favorite show.
Tell your children they can only watch their favorite bedtime show after they've brushed their teeth. In cases where you child is very resistant, use the show as a distraction. Even dry brushing while watching the show is better than nothing and can help them get into the habit of brushing regularly. Eventually, they should become more open to a proper cleaning.
Don't forget regular dental appointment as part of your child's dental care routine.
Be proactive about your children's oral health – schedule an appointment today for an oral check up with Gresham Family Dentistry. At Gresham Family Dentistry, our first priority is your comfort. We take pride in protecting the oral health of Gresham families. We offer cleanings, oral surgeries, child dentistry, and more at Gresham Family Dentistry. Contact us today for an appointment or call 503-661-2600.
Our hours of operation are Monday, Tuesday, Wednesday, and Friday 7:30 AM – 4:00 PM and Thursday 7:30 AM – 5:00 PM.