on Wednesday, January 9, 2019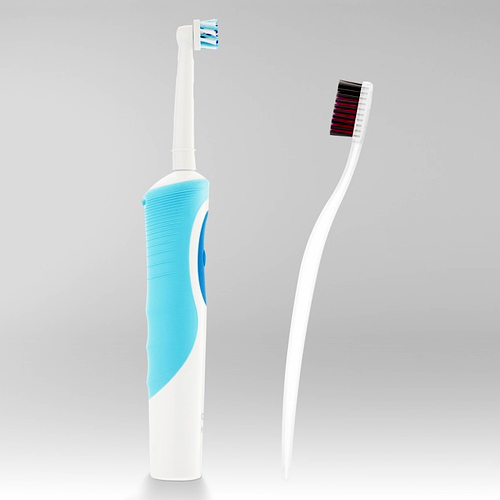 While both electric and manual toothbrushes are effective at removing the oral plaque that causes decay and disease, each has its individual benefits. When deciding whether to use a manual or electric toothbrush, consider all the pros and cons of each. Electric toothbrushes offer a variety of benefits you can't get in manual toothbrushes and are easier for some to use.
ELECTRIC TOOTHBRUSH BENEFITS
More effective at removing plaque.The vibrations of an electric toothbrush have proven to generally decrease more plaque and gingivitis than manual toothbrushes. After three months of use, plaque can be reduced by 21 percent and gingivitis by 11 percent. Oscillating (rotating) toothbrushes seem to work better than just vibrating toothbrushes.
Easier to use for people with limited mobility. With an electric toothbrush, most of the work is done for you. This can be helpful to anyone who suffers from condition that limits their mobility, such as arthritis or development disabilities.
Built-in timers. Built in timers can help you keep track of how long you've been brushing and ensure that you brush as long as you need to.
Less waste. Instead of replacing the whole toothbrush, many electric toothbrushes only require you to replace the head – which can be less wasteful than needing to replace a whole toothbrush. Keep in mind, however, that lower cost disposable toothbrushes still require you to replace the whole brush.
Electric toothbrush cons. Electric toothbrushes are more costly than manual toothbrushes. An electric toothbrush can cost anywhere from $15 to $250 per brush, and replacement packs for the head can cost $10 to $45. Replacement brush heads may not be convenient to buy. If your local store doesn't carry them, you may find yourself needing to find a replacement online.
Plug-in electronic toothbrushes aren't always easy to travel with, so you may need to have a backup manual toothbrush for when you're away from home. There are those who don't enjoy the vibrating sensation of using an electric toothbrush. Electric toothbrushes also tend to create more movement among the saliva in your mouth, making for a slightly messier technique.
In the end, the most important thing is to find out what works best for you and to choose a toothbrush with the ADA seal of approval. As always, regular visits to your dentist are a must. Be proactive about your oral health – schedule an appointment today for an oral checkup with Gresham Family Dentistry. At Gresham Family Dentistry, our priority is your comfort. We take pride in protecting the oral health of Gresham families. We offer cleaning, oral surgeries, child dentistry among other services for oral health at Gresham Family Dentistry. Contact us today for an appointment or call 503-661-2600.
Our hours of operation are Monday, Tuesday, Wednesday, and Friday 7:30 AM – 4:00 PM and Thursday 7:30 AM – 5:00 PM.